Gold Coast architects may incorporate a new design trend in their architecture. The Mayans and Egyptians constructed incredible feats of architecture able to weather the test of time. The pyramid has been known from ancient times as a powerful design that connects to energy forces and its shape is identified with healing qualities. The Egyptians viewed the pyramid as a spiritual symbol because its form directs the electromagnetic energy surrounding the earth and form the stars and other planets.
In metaphysical studies, its structure with four sloping sides emits positive energy that neutralizes negative energy .One of its main function is to remove or recycle stagnated and negative energy and focus harmonizing energies. Research and experiments have shown that pyramid powers change the mental, physical and emotional states of individuals who have been exposed to its vibrations.
Gold Coast architects have a wonderful opportunity to use these pyramid properties in both residential and commercial designs.
The above carbon-neutral pyramid super-structure by design firm Timelinks named Ziggurat. When built the  ginormous pyramid will cover 2.3 square kilometers and will be able to sustain a "community" of up to 1 million.
Timelinks claims that their Ziggurat will be capable of running completely off the grid by utilizing steam, wind, and other natural resources. The tightly knit city will also feature a super efficient public transportation system that runs both horizontally and vertically, and plans are being drawn up to utilize both public and private green spaces for agricultural opportunities.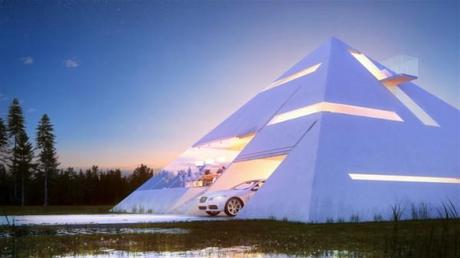 Mexican
architect Juan Carlos Ramos has designed a project entitled
Pyramid House
—a conceptual pyramid-shaped home created and submitted as a proposal for a recent architecture competition.
The above community has a central pyramid surrounded by six domes in the sacred geometry of the Buddha Maitreya Shambhala Star as found in all temples, churches, stupas and holy sites. The design is built to last a thousand years and will incorporate solar, wind, geothermal, EV's, aquaponics, hydroponics, and Life Extension Programs.
The Peace Pyramid above in Kazakhstan designed by the British architect
Norman Foster 
is designed to host a triennial meeting of the leaders of the various religions in the country. But obviously the iconic building also has to represent the modernization of a new oil-country.
According to architectural critic Hugh Pearman of the Sunday Times, the iconography of the pyramid was chosen because it has no negative religious connotations.
See Sacred architecture for more sacred Gold Coast inspired architecture.
For more architectural features :
For more sacred sites of see Gold Coast Architects, Architecture of Spirit, today to discuss your ecospiritual design on 02 6679 4275 or 0403 203 963 or architectureofspirit@yahoo.com.au
Share