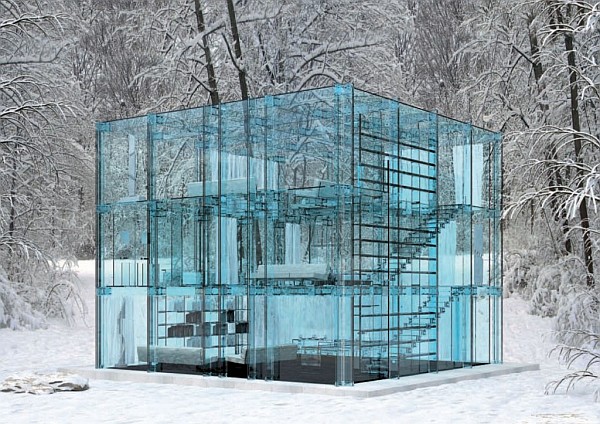 Gold Coast architects know that glass is an essential component of any well designed home unless you live in a tepee or igloo. It is also a key component to successful climate responsive design permitting appropriate amounts to heating and light to pass through the building envelope. If it is not used wisely however the internal environment can be either unpleasantly hot or cold. Specially treated thermal glass and double glazing are just some of the ways glass can be treated to optimise its performance to the specific use and environment.
The above glass house in Milan is made totally of 7 mm glass. Everything from bed to ceilings are made of glass.
Sorry I was wrong about the igloos!!! These igloos are part of a hotel in Finland especially designed to view the Aurora Borealis from the warmth and comfort of their own private space.
Of course, glass may be used in a purley aesthetic sense to create a sense of fun and excitement! The above examples  have been chosen to inspire Gold Coast Architects to play with colour, shape and form in their residential designs.
See Alternative Architecture for more visionary Gold Coast inspired architecture.
To see more Gold Coast architectural features :
Architecture of Spirit, Gold Coast Architects, can discuss your design project on  0403 203 963 or architectureofspirit@yahoo.com.au
Share